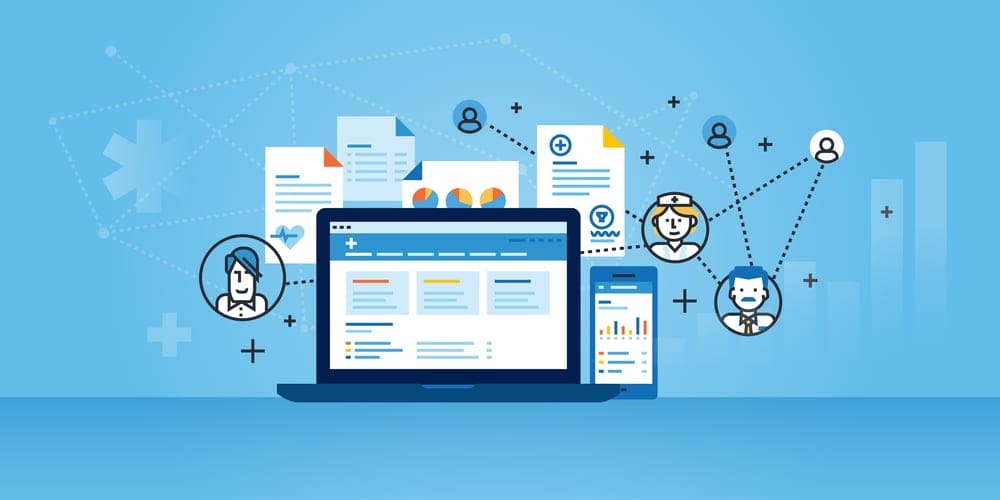 With the correct digital marketing strategy, your dental practice can generate 30+ new patients every month.  That may seem like a lot, but once you understand just how real the opportunity is you'll get it.
Traditional MKT vs. Digital Marketing for Dental Clinics
You have a seemingly endless amount of to-do's to keep the lights on and everyone paid at your practice.  You have patients to see; rounds of interviews to find new staff members; and, of course, spending time finding the most effective ways to get more patients for your dental practice.
While ads in the newspaper, events in the local community, and word of mouth are all critical for generating new patients, digital marketing is the fastest strategy to grow your practice.
Unfortunately, many dentists are stuck only using traditional marketing strategies that are often outdated.
Hey, we don't blame you, it's human nature to avoid the uncomfortable or unfamiliar.
But, because it's complicated & time-consuming many dentists choose not to invest time or money into digital strategy.  Those same dentists find themselves struggling to stay relevant while their competitors grow their practices on autopilot.
Today we are going to discuss what digital marketing is and how to use it effectively to grow your dental practice.  Along the way, you may hear about things like Landing Pages, SEO, Facebook Ads or PPC.  Don't worry about understanding everything all at once.  This is about creating a foundation of understanding you can build out.
Despite having a reputation of being overly complicated, we promise you can do this!
Remember, digital marketing is essential for success in today's competitive market.
So whether you've had the chance to try some google PPC ads, played around with Facebook to generate leads, or are still wondering what a landing page is… Stick around, im going to help you understand the digital marketing strategies you should be using to get new patients.
But let's be honest, when you start to understand even 1% of it you will also understand why working with a dental marketing agency is necessary.
What is Digital Marketing?  
Hint: it has nothing to do with taking selfies #nothanks
Using digital marketing to get new patients is one of the biggest opportunities for growth in the dental industry today, and trust me it's better to be ahead of the curve.
Dentists and other local businesses still have the advantage of being in slow-moving industries when it comes to digital marketing. But the tides are changing, you may have already noticed it.
Check out the Wikipedia page for digital marketing to learn more.
Established practices are closing their doors as seemingly overnight new dental offices pop up.  Failing to invest in digital marketing for a dental practice is a costly mistake, causing lost market share, which means fewer patients and less revenue.
That's because the new age of consumers researches to find the closest, cheapest and highest rated dentists before ever scheduling an appointment.
So if your customers are going to search engines like google, bing, or yahoo to find a new dentist, and your website is buried low in the search results, you essentially don't exist.
That means we have to play the game google has created, and the only way to beat your competition is with digital marketing.
Before I break down the marketing strategies you should be using to get new patients, we gotta clear something up.
Digital marketing isn't just SEO, or Facebook ads, social media, or writing blogs about dogs.
Digital marketing in the broadest sense is a collection of marketing techniques and strategies that rely on the internet to help you reach more customers and generate brand awareness.
It's an umbrella term and under it are dozens of specific types of digital marketing like SEO, lead generation, content marketing, PPC advertising, display & Facebook advertising, etc.
The types of online marketing that actually grows businesses are all complex, but some of the strategies are inherently much more complex than others.
The great part is, once you truly understand it… You will be able to generate customers for your business on demand.
Think about it this way, if you currently use email to connect with your patients you are using digital marketing.  If you have a Facebook, Twitter, YouTube, or Pinterest account, you're leveraging social media which can be considered digital marketing.
Generating New Dental Patients with PPC and SEO
There are tons of strategies for dental lead generation and understanding a few of the key strategies we use will help put you way ahead of your competition.
We do recommend you gain a general understanding of the strategies discussed below, however, we do not recommend you try them for your self right away.
Hiring a digital marketing agency like MassConvert will save you a ton of time and money and will ensure your strategy gets implemented correctly.
Google Ads for Dentists
PPC stands for pay per click, and it is one of the most popular forms of advertising available today. When you use a popular search engine like Google, for example, you've undoubtedly seen some ads placed in your search results.
If you were to click one of these advertisements, Google would then charge the company or brand a small amount of money based on the type of ad they were running.
Google ads occupy the most coveted real estate on the web, the top of googles search results.  With advanced targeting and tracking features, advertisers love it.
That also means more advertisers use it, so the price of PPC ads can be more expensive than other options.  But by targeting the right keywords, you can often see a positive return on your investment.
For example, if your dental office is in Austin, TX, you could bid on an ad for "dental office in Austin Texas." The competitiveness of the search term ultimately determines the price you pay each time a potential patient clicks on your ad. 
Facebook Ads For Dentists
Whether you've dabbled in Facebook ads for your practice already or are just a personal user of the social media site, you've likely seen the many advertisements that are placed in your Facebook newsfeed.
This social network is one of the most used products across the world, with billions of people logging on to Facebook on a regular basis. Because Facebook is such an essential part of modern-day communication, you can reach patients through the platform by purchasing ads.
The main difference between search ads and Facebook ads for dentists is that when people search google for "dentist near me", you know they are currently looking for a dentist.
However on facebook people are there to entertain themselves, they have no clue what they are going to see, they aren't looking for dentists today, but hey… they might have a sore tooth.   Or maybe they have a big night coming up and could use an express teeth whitening.
With Facebook, we interrupt what people are doing to show them the products and services you offer that can help enhance their lives.
SEO for Dentists
Ugh..  I know the story, I hear it literally every time I speak with a new dentist…
"But Nick we have used a SEO company in the past, we paid them for months and never got any results.
Let's pull the band-aid off here, you didn't get any results because you choose a terrible SEO agency.
SEO is essential to the long-term success of your practice.   It's an investment that pays dividends to you in the form of new patients 24 hours a day.
The best part, unlike paid advertising, the leads you get from organic search results are free.
It's a utility for your business that you must pay for, just like your lights, only this utility brings you, new patients.
In the next section, we'll go into more depth on why SEO is essential, but you should always look at ways to improve your dental practice's online presence so that more potential patients will find you when they search for a dentist online.
SEO Content Creation
One of the most powerful components of digital marketing involves search engine optimization.
Because the major search engines such as Google, Yahoo, and Bing serve up billions of search results daily, working to improve your ranking can significantly improve the bottom line of your dental practice.
Think of SEO as the method for getting your website to rank higher when potential patients search for a new dentist in your area.
If you're on the front page of Google, for example, you'll most likely receive more calls from people who are looking for a new dentist then you would if you were on the third page of search results.
While there are some technical aspects of SEO that require some advanced knowledge that a dental marketing company can assist with, one of the most effective ways to improve your sites SEO is by producing valuable content.
The more valuable content you produce on your blog – related to your dental practice and the industry as a whole – the higher the chances the search engines will rank you as a valuable resource for those searching for dentist-related terms.
Think about the types of content you can create that give potential visitors an idea of what you and your practice are all about.
You might put together a list of the top ten types of toothpaste, or perhaps you can write a short guide on how to get kids to brush their teeth. The more valuable content you create, the better your SEO.
Put simply, if you prove to the search engines you provide value and that you have a reputable website, their algorithms will work to reward you more traffic to your site. At the end of the day, search engines are designed to help their users find the best solution to their problems.
SEO for dentists is one of the most significant opportunities in dental marketing today, and many dentists fail to take advantage of the powerful marketing strategy – don't be one of them.
How To Attract New Patients
In addition to improving your SEO by creating content for your website, another way you can get more patients is by getting as many online reviews for your practice as possible.
Just be careful to not create fake reviews, search engines look for how honest and legitimate the reviews your dental practice receives on a daily basis.
Having a large number of reviews online isn't just good from a search visibility perspective, but a large amount of reviews is also great proof to potential patients that you are reputable and provide excellent service.
Here are a few ways to get more reviews for your practice:
Train your entire staff to politely ask patients for a review toward the end of their visit. Just this tip alone can significantly improve the number of online reviews you receive.
If it's legal in your area, you can offer patients a gift card or other reward to encourage them to leave a rating and review. It's critical that you ask that the review be honest so that others can get a realistic look at your service. If you have 1,000 five-star reviews, most people will immediately become skeptical; at the same time, having all one-star reviews will likely hurt your practice as well.
Make it clear and easy for patients to leave a review on your website.
Reviews are without a doubt one of the most powerful tactics for local marketing for dentists.
How to Choose the Right Dental Marketing Agency
For many practice owners, figuring out where to start can be a little overwhelming.
Should you focus on Facebook ads? Should you invest in PPC? While having a general knowledge of digital marketing strategies for dentists is essential, there are plenty of trustworthy and reputable marketing agencies that can work with you to help you execute a strategy that works.
When looking for a dental digital marketing company, here are a few tips to ensure you find a good fit for your specific needs.
Do They Work With Other Dental Clinics?
When possible, you want to work with a marketing agency that has experience working specifically with dentists. While generic marketing agencies may be a hit or miss, agencies that work with dental clients are well versed in the precise strategies that work for dentists.
Do They Provide A Clear Marketing Strategy?
It's important that your agency has a clear strategy for your specific practice. If they insist you should be on Facebook simply because "everyone is on Facebook," they probably aren't very good at what they do.
A great dental digital marketing company will create a specific strategy for your practice and explain why they believe you should invest in a particular tactic.
The world of digital marketing is incredibly complex, but with the right strategy and effort, there are plenty of opportunities for dental practice owners to leverage digital marketing to help grow their business.
If not... You probably should just use us!
Greetings Earthlings!
Ready to join our list of happy clients and grow your business?  Request your free proposal now!