It used to be that dentistry was all about traditional marketing.
But now nearly 90% of patients discover their dentist online. That means it's crucial your website & dental landing pages stand out from your competition.
Plus, your website is the first touchpoint for all new and existing patients. Therefore, it needs to represent you and your practice well.
There are several ingredients that make up a good dental website. After making and testing many different kinds, we've found there are 6 things every dental website needs to be effective.
1. Intuitive Mobile Experience
More than 60% of online searches come from mobile – which is why Google began to penalize websites that were not mobile-friendly in 2015.
But you don't want to simply ensure your website is mobile-responsive, you want to design it around the mobile experience and not the desktop computer experience.
Why?
Most users find dentists through 'local intent.' That means they searched for terms like, 'dentist near me' and then clicked on the search results.
When it comes to 'local intent' searches, more than 80% are done on mobile phones. That means it's more likely new patients are going to discover you on mobile rather than a desktop computer.
This is why your website should be built through the lens of 'mobile-first.' It may feel strange to do but evolving your marketing with user behavior is critical in this fast-paced world.
2. SEO Focused
Search Engine Optimization, or SEO, is an organic method to increase site traffic.
By improving SEO, you're more likely to appear in search results. Therefore, when people search for terms like, 'dentist near me,' your practice will be more likely to appear in the search results.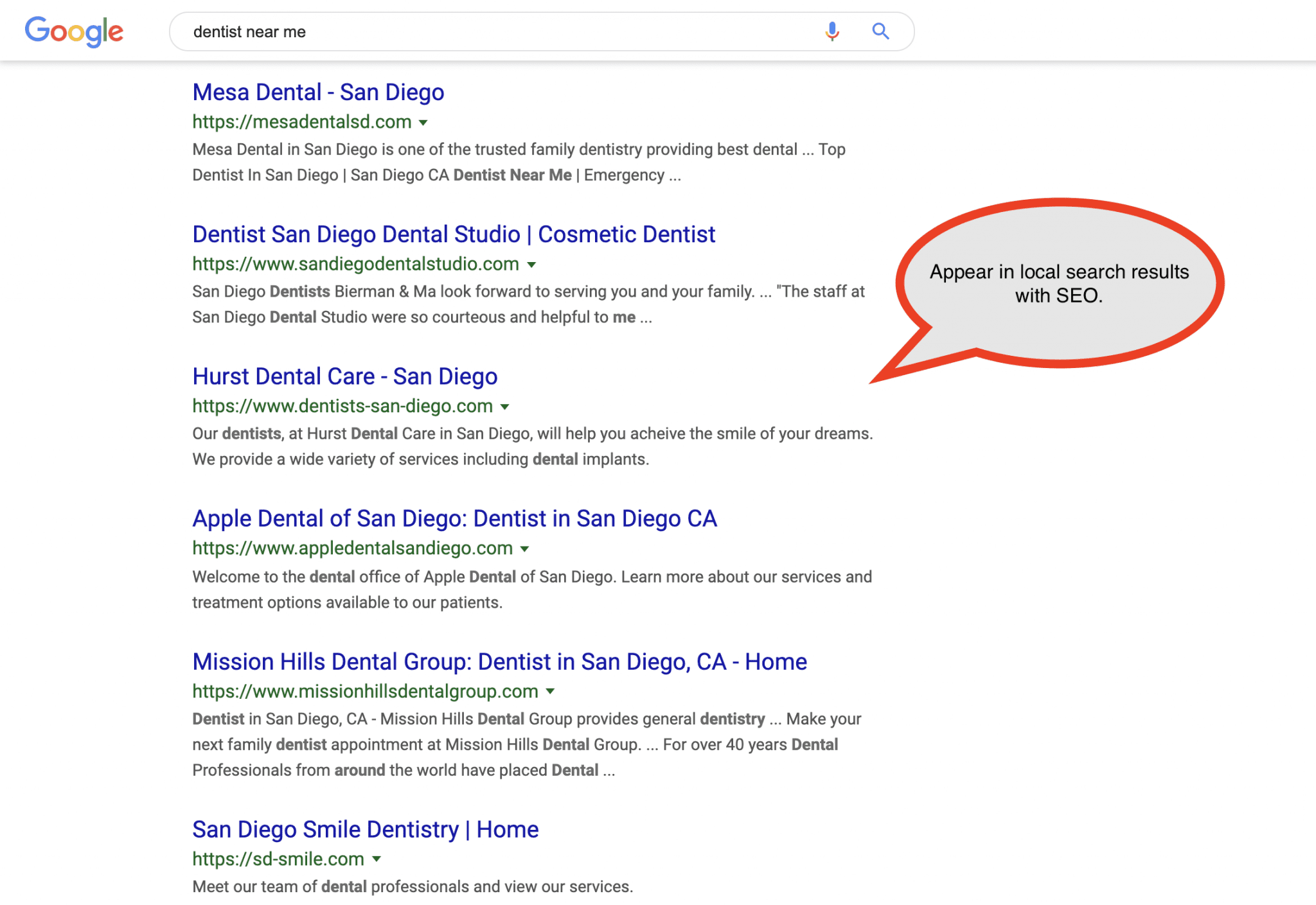 You've likely heard of SEO, but did you know how you design your site greatly affects your overall SEO performance?
From the content to the headings to page speed, your SEO ranking is directly correlated with your website.
If you're looking for more patients, improving your SEO is an important step.
Especially over the long-term as you start to outrank your competitors.
How do you optimize your website for SEO?
Structure your headers with properly targeted keywords
Publish consistent content related to dentistry
Name your images and include alt text
Ensure your website is fast
Do not have broken links or too many redirects
Remember, your website is more than just a place for potential patients to check out your practice. It's also one of the best ways to organically get more website visitors and significantly boost your SEO.
3. Have Strong Calls To Action
Website visitors are great but leads are even better. If you don't have strong 'calls to action', you're likely missing out on a lot of new patients.
There are several goals of a good website. We've already touched on the importance of SEO and we'll later get into the user experience, but it's also critical that a good dental website is built to get users to schedule an appointment, or share their information so you can follow up with them.
In other words, you want website users to take the action you want.
That might be calling the office, filling out an online form with their info, or getting them to take a short quiz.
Dentist Call to Action Examples
Large buttons telling encouraging users to call you to schedule.
Ensure your office phone number is always visible, will call when clicked, and has text near it like, 'Call Us Today'
Put your email address front and center & encourage people to reach out
Have a chat feature that subtly notifies users you're there standing by if they have questions
Make your physical address noticeable and encourage potential patients to stop by and see your office
Enable easy access to book appointments & tell the user it will only take a moment to book
Offer New Patient Specials or other coupons to encourage first-time patients
Remember, you don't want to miss out on opportunities when potential patients are on your website. The more you can have strong calls to action, the more likely it is you'll get more patients and grow your practice.
4. Warm and Comfortable Atmosphere
As you're aware, many people have anxiety about dentistry. Whether or not these fears are 'reasonable' doesn't alleviate them.
Your website is a great place to meet people where they're at and show you understand their hesitation.
How do you make a dental website friendly and comforting?
Use colors that evoke a sense of relaxation
Make it easy to navigate to reduce friction or frustration
Use warm language that connects instead of medical language that intimidates
Make it personal by featuring your staff and showing photos of the office
Provide testimonials that speak highly of your practice so you can build trust
The more you can make potential patients feel comfortable while using your website, the better chance you have at turning them into long-term patients.
While ensuring your website is friendly and comforting, it's also important it's professional. This brings us to the next section.
5. Ensure it's Professional and Free of Errors
Before a potential patient steps into your office, they're going to view your website as the face of your practice. Therefore, it's critical your website is professional and free of errors.
We covered the importance of your site feeling friendly and comfortable but you also have the strike the balance of it feeling professional and intelligent as well. Although it can be a tight line to walk, it's absolutely doable.
First of all, a 'professional' site doesn't mean it has to look all business or medical. It simply means that you express that you know what you're doing.
When people are searching for a dentist, they seek to find one they feel like they can trust. An unprofessional site is much more difficult to trust than a professional one. What would be your first impression of a dental practice if their website looked sloppy, had grammar errors, or contained broken links?
People are much more likely to believe a dental practice has services they can trust if their website also appears professional.
Your website is an important extension of your practice. It doesn't matter if the visitor is a current patient or a prospective one – they should experience a sense of professionalism on your website.
6. It Needs to be Fast
The speed of your website is a big factor when determining your users' experience.
In fact, more than 50% of mobile users leave a website if it takes more than 3 seconds to load.
But for the people that do stay, the slower your site is the more and more frustrated they're going to become and the less they'll want to choose you as their dentist.
Also, did you know search engines like Google take site loading speed into account when showing search results? It's true.
The faster your site, the better your SEO will be. The slower the site, the less likely you are to appear in search results.
So if you want to keep your website visitors, provide them with a good experience, and boost your SEO, it's critical you have a fast website with short load times.
Use These Tips for a Great Dental Website
A good dental website is a lot more than simply promoting your practice online. When done right, it's an entire ecosystem that can help you get more patients.
These strategies may sound challenging but they're all worth the investment.
This is why one great option for dentists is to hire a marketing agency that understands dental practices.  The MassConvert team has been recognized as a top web design company on Design Rush, give us a call to get started today!
Greetings Earthlings!
Ready to join our list of happy clients and grow your business?  Request your free proposal now!