\Getting your business online can be a daunting task – there's a lot that goes into it.
However, it's also easier to get your business online than ever before. With so many different website platforms for small businesses, you can get a fast, modern website up in no time.
What's even better? You don't have to hire someone else to do it. Developers can charge a pretty penny to build a small business a custom website – or you can do it on your own. 
Here are our favorite website platforms for small businesses. Each has different pros and cons based on your needs but all of them are great tools. 
Just looking for a landing page? Check out this ultimate guide to landing pages.
WordPress
There's no doubt that WordPress is the reigning champion of website platforms.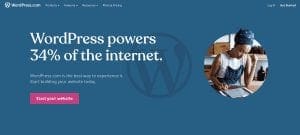 In fact, more than 30% of all websites on the internet are powered by WordPress. That's because WordPress has all the tools and integrations one needs for a successful website for small businesses.
And most of them are free! You'd be amazed at the number of things you can do on WordPress with no extra money out of pocket. 
First, it's important to distinguish between WordPress.com and WordPress.org. The dot com platform is a paid version with more user-friendly options while the dot org platform is open source and free to use. 
Which should you go with?
That depends on what you're looking for. If your team is tech-savvy and you want to save on costs, we recommend using the dot org version. If you're looking for a more user-friendly experience, opt for the dot com or one of the other website platforms for small businesses below.
The only real downfall of WordPress is it's not as user-friendly as some would like it to be. Most of the features are implemented with plug-ins which can be a bit more difficult to learn. In the long run, this is actually better because it provides the user with more freedom over the site, but may be challenging to new users at first.
Unlike some of the other platforms, it's not as 'drag-and-drop.' But what it lacks in user-friendliness it more than makes up for when it comes to customization. Eventually, you can even set up your WordPress environment with the right plug-ins so that it's easier to use than some of these other platforms – but that takes some experience to put in place. 
In summary: if you're looking for the most powerful option at the best price and willing to put in the time to learn, WordPress is your answer. It's not the best for a beginner seeking a 'quick-fix.' But it is the best option if you're looking to build a more complex site, or will be working with websites for the foreseeable future. 
GoDaddy
If you already purchased your URL, you likely bought it from GoDaddy. Managing more than 75 million websites, GoDaddy is the king for selling domain names and hosting packages.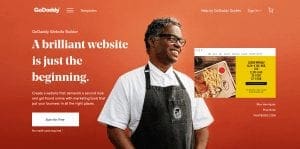 But they also have one of the quickest website development platforms. In fact, you can build a site within a few minutes. Although it's super easy to use, it's also very basic. Don't expect a lot of flexibility or customization.
In fact, depending on the purpose of your site, this tool is almost better used as a landing page for your business until the website is fully developed.  
Once you choose a template, you use a drag-and-drop builder which is pretty straight-forward. 
It also has an Artificial Design Intelligence system, where once you have answered a few questions, your website is automatically created. And yes, there are even features available on GoDaddy for E-commerce websites. 
In summary:  if you're looking for a simple, fast option requiring little customization, GoDaddy may be the right website platform for your small business.
Weebly
Taking the simplicity of GoDaddy and making it a little more complex and custom, Weebly offers an easy-to-use website builder with a lot of functions and features for your website.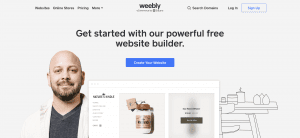 With over 40 templates focused on specific industries, you'll find something you love and then it's a breeze to edit from there.
This platform is for those who aren't very tech-savvy but still want some control over their website. Although it lacks extensive functionalities, it's a great choice for basic websites. 
The premium plans give you access to a lot of useful apps for things like SEO optimization, email management, G Suite for business, blogging, and more.
In summary: if you want something simple easy-to-use with more functionality that GoDaddy, Weebly is a great option. Although you won't have a lot of freedom to design a technical or highly custom website, you'll have access to great template and simple features. 
Wix
There is a feature Wix boasts that makes it stand out from the others. While most of these other platforms are drag-and-drop, Wix takes it a step further.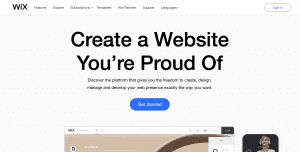 Not only is it drag-and-drop, but you can drag elements anywhere and drop them anywhere. 
You read that right. No more spending two and a half hours trying to get that button in that certain location. Or spending days trying to get the navigation and footer just right.
Wix provides its users with precise control. A powerful, yet simple website builder, you can create your website in a few hours using its precise drag and drop tool.
Or, you can opt to use its Artificial Design Intelligence features where it will build a site for you. With over 500 professional designs, and the ability to integrate any custom code to the Wix template, it's a great option.
Still, like many of these other website platforms for small businesses, there is limited functionality and you don't have full control over the code. 
In summary:  with the ability to drag and drop anywhere on the site, Wix offers simple solutions with precise control and is a great option for beginners. But you won't be able to fully customize, or have full control over the code. 
Squarespace
If you have a bit more time to dedicate to your site and/or you are a little more tech-savvy, Squarespace is likely the right option for you.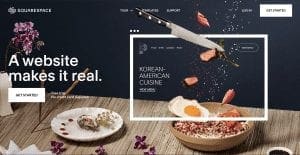 With more freedom to design and customize than GoDaddy, Wix, & Weebly, Squarespace can help you create amazing, professional websites in a short amount of time without knowing any code. 
You can think of Squarespace as being the Apple of website builders. Its design is gorgeous, it's easy to use, and it's powerful. As mentioned, though, it does require a little bit more of a learning curve than some of the other platforms.
But we're not talking about days upon days of learning an entirely new language. After watching a few tutorial videos and learning about the platform, you'll be off and running with the ability to create amazing things very fast. 
From mobile-friendly templates to a wide variety of styling features, to announcement bars, shortcut menus, seamless social media integrations – Squarespace has it all.
It's also a great choice for image-based websites and e-commerce since it offers a zoom-in, quick-view view of the photos and products.
In summary:  Squarespace is a wonderful option if you want more control and have a bit more time to develop your website. 
Our Favorite Website Platform for Small Businesses
WordPress is the most used for a reason: it's the best. 
We're not saying it's for everyone, we're saying it's our favorite. If you're looking for a go-to platform to give you a plug and play website, WordPress likely isn't for you. 
But if you want full control, will be spending time developing this website or future ones, or need a system that can handle a more complex site, WordPress is the best option. 
Now that you've decided which website platform you're going to use for your small business, the next thing you should consider is how to structure your website for SEO. This is something you want to start before you publish your website, not after.