Business to Consumer MKT Strategies
Add a header to begin generating the table of contents
It seems like everyone who has seen a YouTube video is a "Guru" and knows how to solve YOUR B2C Marketing problems the easy way.
While there are many business-to-consumer or B2C marketing strategies that people talk about online, none of that matters unless you have a solid understanding of the overarching strategies needed to succeed when trying to reach your customers online.
This quick reference guide will provide you with B2C marketing ideas and help you understand what B2C marketing is, why it's important, the strategies that actually work, challenges you will face, and tips for success.
What Is B2C Marketing?
Consumers are everywhere. They have weak impulse control, money to burn, and don't like making decisions for themselves.  The only thing standing in the way of you and them is access.
So, What is B2C Marketing?
It may be confusing at first but simply put, Business Marketing is how you get your product or services in front of the consumers that may be interested in them.  
B2C Marketing Definition
Business to Consumer marketing is the term used to describe the ideas and strategies used to reach the consumers in your target market.  
When people talk about B2C marketing, they're referring to free & paid strategies to get your brand in front of consumers.
But not just any customer.  Savvy marketers use multiple channels and campaign strategies to target the exact customers that are most likely to need and purchase your products and services.
Ultimately the goal of B2C marketing is to increase sales and revenue for your business.
The Difference Between B2C & B2B Marketing
Sometimes people confuse B2C & B2B marketing or think they're the same. Well, they're not. Not by a long shot.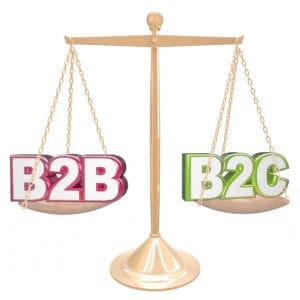 B2B marketing is "business-to-business." Therefore, the customer is completely different. While B2C focuses on trying to get people to purchase their products and services, B2B marketing tries to get businesses to purchase their products and services.
The main reason B2B marketing strategies don't always work for B2C brands is this difference in who the customer is. B2B customers are spending A LOT more money on average than B2C customers and it's their job to choose the perfect product or service. B2B customers are logical, research their options, compile facts, and present them to decision-makers, resulting in a long & competitive sales cycle.
B2C customers on the other hand are typically impulsive, don't do a lot of research, and make most purchasing decisions emotionally, not logically. This means the sales cycle can be much shorter. And with the right approach, the sale can be much easier.
Think about the last time you were in the supermarket, there's a reason that the big box stores put a ton of impulse items (candy, soda, etc.) that YOU don't actually need directly by the register.  Because you can't control yourself.
Savvy B2C brands know this. The ones who figure it out for their audience quickly become superstars in the industry.
Why B2C Marketing Is Important
You want your product or service to get purchased right?
Then you need to ensure consumers know you exist by appearing where they're looking.
Business to consumer marketing's main purpose is to increase sales.
In order to do that, you need a B2C Marketing Plan that:
Gets yoru businesses website more traffic

Grows your email list

Educates the consumer

Increases brand recognition

Brings them back for more

Uses compelling copywriting to get consumers to BUY NOW!
You'll need awesome landing pages to market your B2C business! 
We love using UnBounce for our landing pages.  Its easy-to-use editor has a/b testing features and loads pages super fast so you never miss a conversion.
B2C Marketing Tips & Strategies
Content Marketing
Have you ever been looking for a product to purchase and ended up on a webpage that compares the top products for you?  The pages you end up on when searching for a product are often the result of what we call content marketing.
Content marketing for B2C is the tactic of creating content (blog posts, guides, infographics) that your target customer finds useful as you collect leads and build a relationship with them.
Content marketing is one of the most important methods you can use to capture and nurture leads.  Also, depending on what type of content you create, B2C content marketing can also help you get organic traffic by improving your search presence.
It's not enough to simply create the content, it has to actually be useful and structured correctly if you want the search engines to display it.
It also helps if you are creating content that people are actually searching for!  There are a number of ways to research the right content for your target customer, one way to start is to find a competitor that's already doing it well and copy what's working for them (just make your content a little better).
Search Engine Optimization
If you are going to the trouble of creating a ton of helpful content, you should take the time to optimize it so people can actually find it.  That's where B2C SEO comes into play. 
The first step is to create super high-quality content that your customers find useful (this is content marketing), optimize the On-Page SEO elements like page speed, title tags, etc., and build links from relevant sources back to that useful content.
Yet, very few companies take the time to optimize for search because they want instant gratification.  Therefore, they rarely even consider how their content marketing, paid ads, social media, and SEO can all work together to amplify results.
Paid Advertising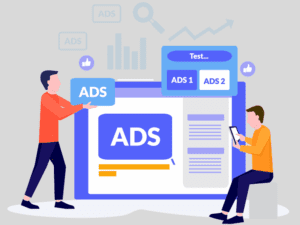 Before you even think about advertising your business on platforms like Google Search, You'll need to set up landing pages that have one purpose... To Sell Your Product or Services. Landing Page tools like UnBounce have templates that make setting up high conversion rate landing pages fast and easy. 
Another reason people neglect working on their SEO is that they can quickly get relevant traffic by using paid advertising platforms such as Google Ads.  In many cases, B2C companies can do well off paid advertising alone.  However, you'd be a fool to neglect your SEO if you are making PPC work for you.  Check out our article on the difference between PPC and SEO if you are still uncertain why you need both.
Between Pay-Per-Click (PPC) ads on Google, image & video ads on Facebook or Instagram, and the deployment of remarketing ads, there are a lot of ways to get your ideal customer's attention. But don't get distracted or overwhelmed with all the options. 
Not all ads are created equal. To create good ones, you want to start by creating great ad account structures, using compelling copywriting, and sending people that click your ads to a relevant page that continues the idea
Once you get your ads running you'll start seeing traffic coming in.  From here you'll need to optimize your accounts to make sure only the traffic that is most likely to buy sees your ads.
This is where lazy marketers stop, but not you. You understand that paid traffic is… expensive. So you'll have email capture tools set up, retargeting pixels configured, and email automation funnels that allow you to continue talking with your potential customers until they convert.
Social Media for B2C Marketing
A lot of business owners think social media is a waste of time, but that's probably just because they aren't creative or their content sucks.
When you create awesome content, social media is a breeze.
When your content marketing team creates a new post, queue it up to post (include a direct link to your new content) on Facebook, Twitter, LinkedIn, Pinterest, and any other relevant platform for your business. This creates social mentions which can help with SEO (score!), can increase traffic to your website, and helps with brand recognition.
B2C Marketing Challenges
Even though it may be easier to sell to consumers than businesses, it doesn't mean it's a walk in the park.  Here are a few common challenges B2C companies share with us.
Tracking / Attribution 
For some reason, people are still having a hard time tracking the effectiveness of their marketing.
There's really no excuse for this if you have google analytics, search console, and your pixels setup correctly.
Producing Engaging Content
If you are having trouble with creating useful content that engages your customers, you should go back to the planning phase and try to understand your target market a bit better.
Cross-platform Issues
Consumers expect their experience to be the same regardless of the device they use.  Optimize your user experience across platforms today… just do it.
Time and Resources
This is a tricky one because if you don't have the time to create a legit B2C marketing strategy, build a conversion optimized funnel – and optimize the heck out of everything – you probably won't ever be able to make it work.
B2C Marketing Tips
Marketing directly to consumers can be competitive so you want to be sure you're strategic with every part of your B2C marketing funnel.
A few of our favorite B2C marketing tips are:
Send Paid Traffic to Content Pages:  Sending traffic to blog posts for a few days after publishing can help them index faster, as well as even increase your potential rank (if the traffic dwells on the page long enough).  This same approach can be used for content pages you recently published.
Use Custom Landing Pages For Your Paid Ads:  Seriously, if you don't use great landing pages you are wasting a TON of money on paid ads.  Click Here & Get The Best Landing Pages.
Target A Niche Audience:  Determine your ideal niche and target it with relevant marketing that speaks directly to the interests and desires of people in that niche.  They'll be more likely to engage with your content and make a purchase since you are speaking directly to them. They'll trust you more.
Do the Occasional Press Release:  Press releases can create backlinks to your site which can boost your SEO.  Plus, when reporters see them, they may decide to write an article.
Guest Post Outreach:  You can gain backlinks and increase traffic by reaching out to relevant blogs in your industry and offering to write a guest post for them.  They get free content, and you get a backlink to help your SEO.  Win-Win.
Increase Your Website Speed:  Web page loading speed plays a major role in SEO and also the conversion rates. Google gives value to pages that load fast because they provide a better user experience.  Apart from that, pages that are slow, especially ones that take longer than 3 seconds to render have drastically lower conversion rates.
B2C means Business-to-Consumer.  This term is explaining the type of customer the company focuses on for their products or services.  
Business to consumer examples are everywhere.  One common example would be your cell phone company since they focus on selling you a cellphone and plan directly.  
b2c content marketing uses high value content creation (such as guides, videos, breaking news, etc.) to generate interest and capture leads for a business.  For instance, you may have been to a website that asked for your email to download a PDF or access a certain page, by providing your email address they have the ability to market to you again which is the power of content marketing. 
With content marketing, you'll create loads of valuable content pages on the site.  Optimize those pages for SEO to get free/organic traffic over time.  You can also use PPC advertising to immediately start getting traffic to your lead magnets created with content marketing.