Real Estate is a HYPER competitive market, so you'll need every leg up you can get to find success. 
Now I'm not saying using a landing page is just a leg up... because it's a necessity!
If you are a real estate agent or just looking for a way to make your real estate PPC campaigns perform better, you need to use custom landing pages.
This guide will help you understand why using landing pages for selling houses is so important, what should be included on your landing pages, and the best tools to use when setting your landers up.
Who it's for: Anyone looking to improve their Real Estate advertising campaigns.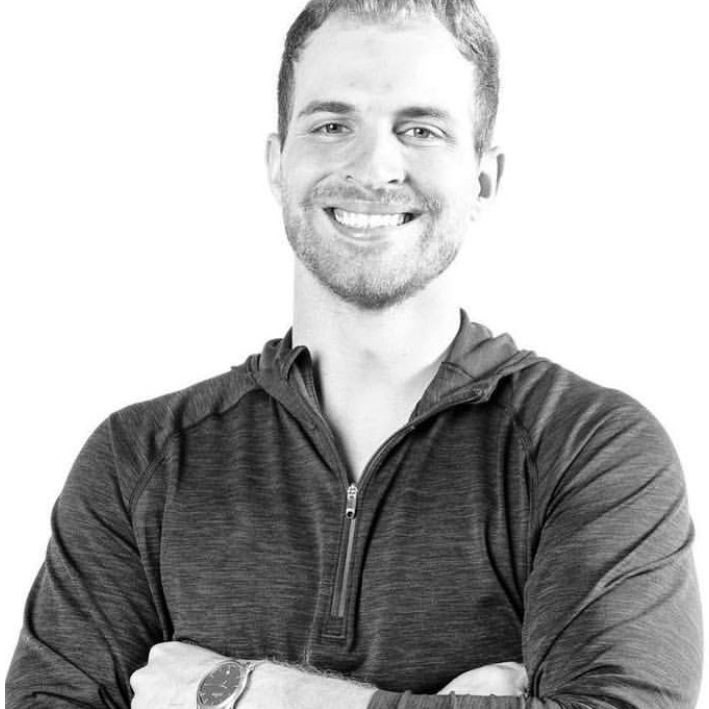 About The Author: Nick Black
Why I Wrote This Guide: I wrote this guide to help YOU learn why using Real Estate Landing Pages is not just important, but crucial.  I've helped businesses generate over half a million leads using Google PPC & custom landing pages, and can help you do the same!
If you have ever used Google, especially if you clicked on any ads, then you've probably been on a landing page.  Real estate landing pages typically have no navigational links that allow a visitor to navigate away from the page without performing the action the site owner wants.  They look like a regular webpage but are very different in many ways.  Landing pages are paid advertising tools created for one reason, To Increase Conversion Rates for your digital marketing campaigns.
Here's how it works:
Someone searches for "real estate agent near me"  or "sell my house in *YOUR CITY".

They click your ad and which then sends them to your landing page (not your main website).

Your Real Estate landing page is specific to the ad they clicked and addresses the visitor's question directly.

They are then asked to contact you via form or phone number.  For a more general search term, you might send them to a landing page with a real estate search box on it.

They either contact you or leave the site
Your landing pages remove all distractions and help site visitors by providing exactly what they are looking for.  This relevancy is what helps increase your quality scores in Google Ads campaigns, and a consistent experience helps increase your conversions.  With effective copywriting and a compelling offer, landing pages can make your advertising campaigns a huge success.
Take a look at the example landing page one successful real estate agency uses below.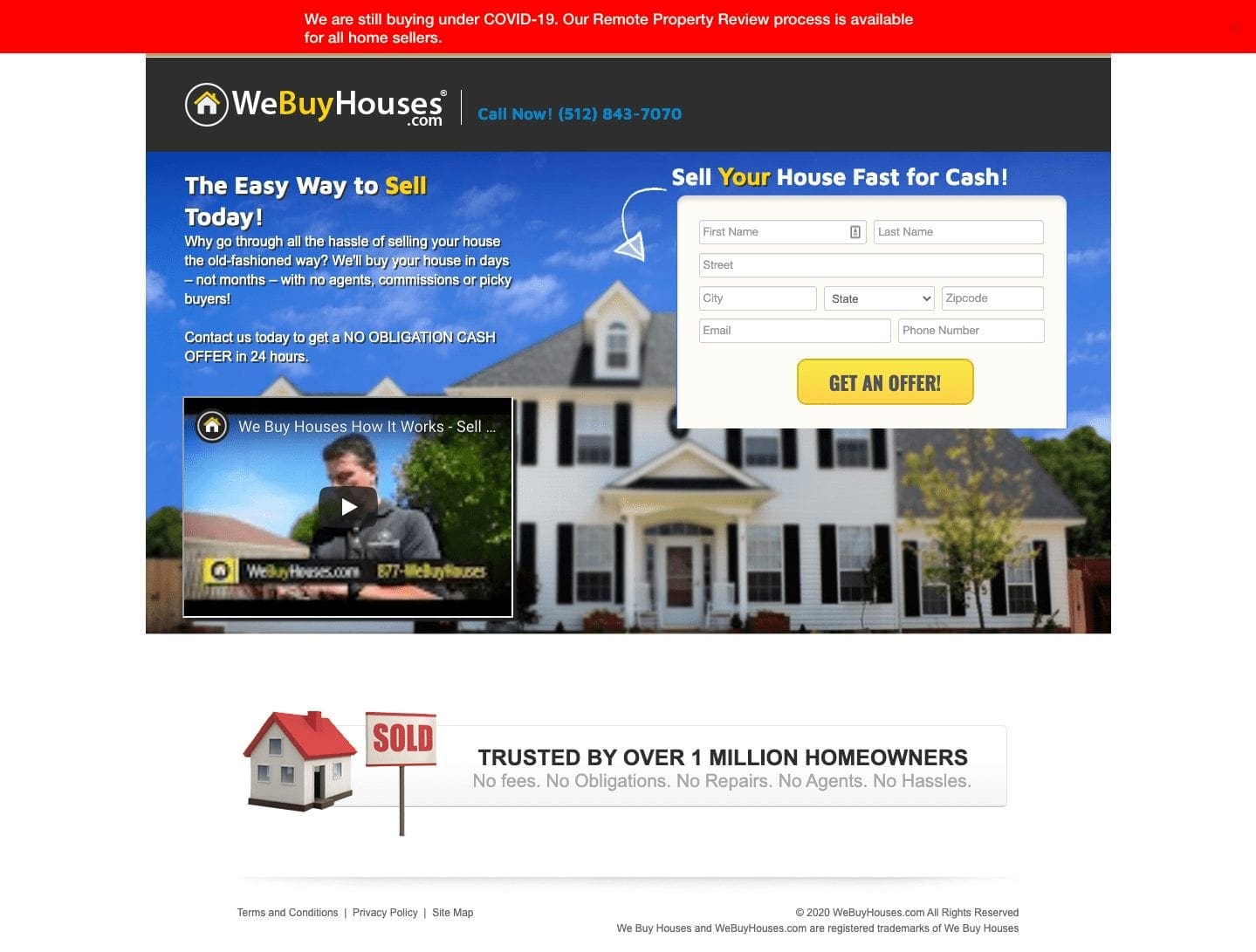 If you are anything like me, your first thought might be "That's an UGLY landing page!", but since we know that ugly landing pages often have The Best Conversion Rates, that's not necessarily a bad thing.
The landing page above uses a common format that site visitors will be familiar with.  That means they will use less brainpower to find the information on the page they need (which is good for you!).
The message is clear "Sell Your House For Cash", it has a form for capturing leads that don't wish to talk on the phone and call tracking numbers for visitors who would rather talk to someone now.
Your Real Estate landing page doesn't need to look just like this (I'll show you some others that are awesome below), however, it does need a logical layout and should follow landing page best practices.
Real Estate Landing Page Layouts (that are logical).
Since your landing page is an extension of the AD the visitor clicked on, it needs to deliver an experience that makes sense and matches the ad.  In order to deliver the information the visitor is looking for, you'll need a logical landing page layout.
For instance, if the visitor clicked an AD that said "sell your home for cash now", your landing pages CTA (call to action) and header text should also mention Selling a Home For Cash.  If you send people to a generic page they will have trouble finding the information they need, and will most likely Bounce back to the search results page (costing you a lot of $$$).
To make sure the experience is consistent and to help your conversion rates improve, your landing page needs a clear headline that encourages action, benefits displayed prominently, answers to potential questions & objections, imagery that supports the message (please don't include images unless they help encourage your main objective, random images Do Not Help You!).
Optimized Real Estate Landing Pages:
Have navigation links to other pages removed.

Load lightning fast (always under 3 seconds)

Include Only ONE strong call to action

Contain relevant images and videos (you don't have to use any images!  If the image doesn't help the visitor get the info they need Don't Use It!).
Here's an example of one landing page that uses minimal images and follows almost every Real Estate landing page best practice.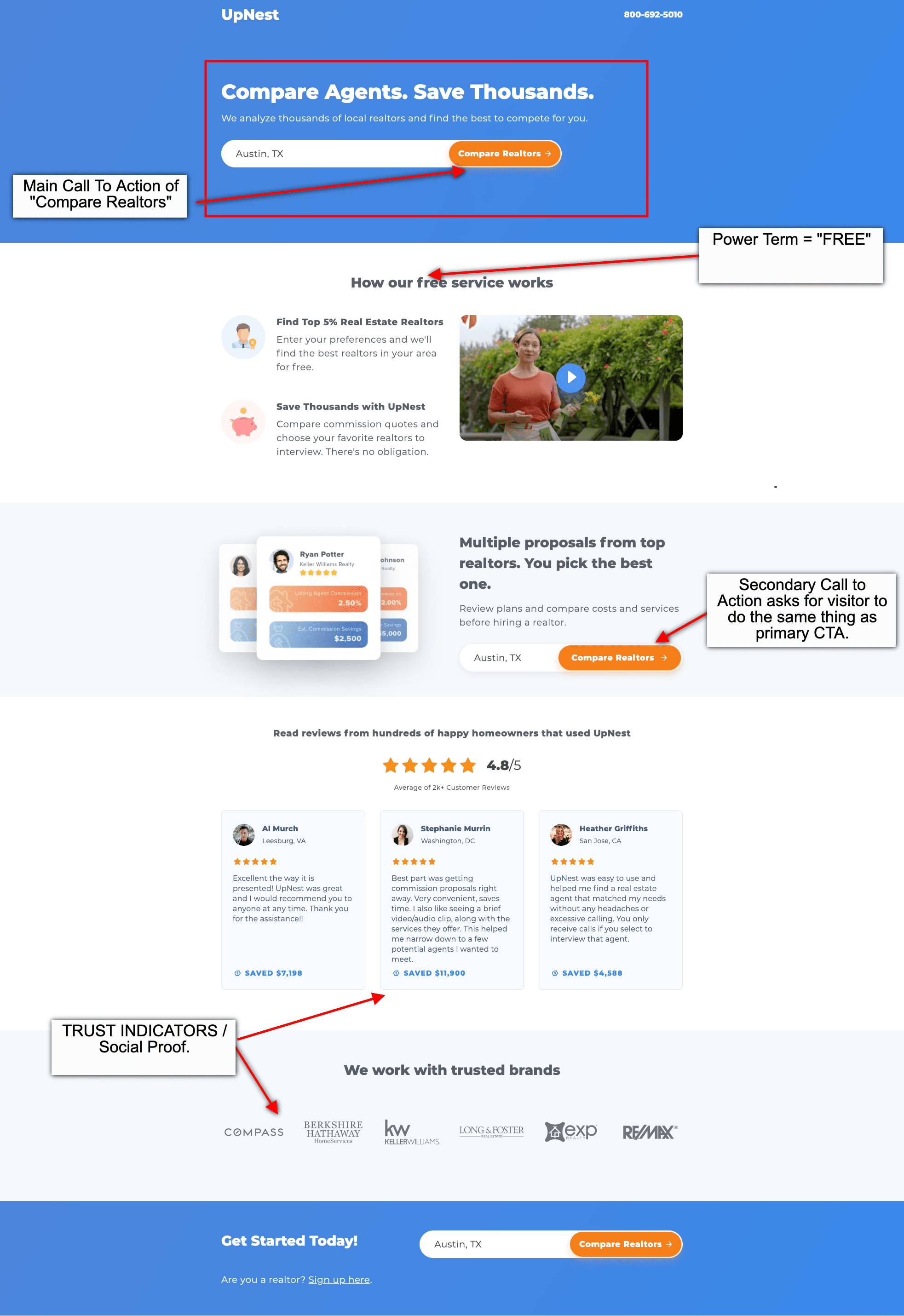 Understanding The Elements of an Excellent Landing Page
Top Bar: This is the area at the very top of your page.  It should include your Real Estate company logo with good resolution, and the main call to action such as Call now or Sign Up.
Heading / Title:  This is the first thing that will catch the viewer's attention. It should let the visitor know they are in the right place and deliver your main call to action.  You'll also need to make sure it is short and provides a logical continuation from the ad they just clicked.
Contact Form:  If you'd like visitors to use a contact form you can include on next to the main heading.  Then you can include links throughout the page that jump people back up to the top of the page when they are ready to use it.
Benefits:  After the main section or "Hero" area, you should start delivering the benefits of your service to the visitor.  This is your time to shine!  Include your key selling points, and explain why someone should take the action you want them to.
Design:  The design of your landing page should follow the design of your website to keep a consistent feel.
Social Proof / Reviews:  Including brand logos from partner companies, reviews from past customers, and relevant awards & certifications can help increase the trust factor and create social proof for your real estate landing page.  All of this can increase your conversion rate.
Mobile Optimization for Real Estate Landing Pages
It's 2021, if your landing pages don't look great on every device... you might as well stop advertising.
Apart from mobile experience being a huge SEO factor in rankings for your website, mobile-optimizing your landing pages is a must if you want to convert mobile traffic.
Learn From Your Competitors
Your competitors landing pages could be better or worse than yours.  But you still should stay current on what your competitors are using and adopt strategies you think maybe working.
Don't be too quick to try and copy them though, your excellent just the way you are.  Just show it.
If you need help doing so give us a shout at howdy@massconvert.com
Conversion Optimization for Real Estate Landing Pages
After your pages start getting traffic from your paid advertising campaigns (Google PPC, Facebook Ads, etc.) you'll be able to start testing elements to help increase your conversion rates.
You need to make sure your analytics and tracking codes have been implemented and are working prior to doing any CRO for your pages.
A/B testing landing pages often refer to split testing traffic between two versions of your page with ONE element changed on the tested version.
AGAIN, you only want to change one element on the tested page.  A headline for example or button text would be a great place to start.  Changing more than one element will result in a multivariant test which (unless you have a TON of traffic) makes it very hard to determine what change makes the page better.
I always suggest focusing on the pages Text or Copywriting first as the words you use will always result in the largest conversion rate increases.  After you have tested all of the copy on the page you can try small element or layout tweaks, after that you can try some design changes.
Remember, Text/Copy changes can get you Big 10-15% increases in conversion rates, layout and elements get you 1-2% changes, and design (changing a button color) typically results in under 1% shifts on average.
Real Estate Landing Page Example
Landing Page Builders / Tools
UnBounce:  UnBounce is our landing page builder of choice.  It's a super easy drag and drop builder that allows you to create any landing page you could need.  It's also lightning-fast and designed to convert.
LeadPages:  An old favorite, lead pages was a front mover on the landing page builder industry.  They have fallen a bit behind but still offer great solutions for business owners.
BeaverBuilder:  When we aren't using ClickFunnels we use BeaverBuilder for WordPress. BeaverBuilder is a website builder that allows you to build landing pages in a similar way to the tools listed above.  The only difference... You build them on your site rather than somewhere else.
Have any questions?
We hope this guide helps you better understand what landing pages are, why they are critical to your success, and where to get started.
If you need any help or would like some advice please give us a shout at howdy@massconvert.com or use the contact us form.
Greetings Earthling!
Ready to join our list of happy clients and grow your business?  Request your free proposal now!
FAQs
Frequently Asked Real Estate Landing Page Questions.
Yes!  If you are spending any money on paid advertising you owe it to yourself to send that traffic to an optimized page designed to convert.
We recommend using a landing page builder such as UnBounce to create and deploy custom landing pages. It's easy to use, fast and allows advanced testing.
It depends if you build them yourself using HTML or a website builder they can be very cheap.  However, if you want a fully optimized landing page with conversion-driven copywriting you will end up paying between 1-2K which is well worth the investment. 
Sure!  We are happy to review your landing pages and will provide you with honest, actionable feedback... Even if it hurts. 
The short answer is NO!   You need them to stay on the page until they take the action you want. However, sometimes we will use "Jump Links" to create what looks like a navigation bar but only allows the user to "Jump" to different areas of the LP.
Landing pages do have the capability to be bad for SEO.  However, it is very easy to avoid these issues.  If you are worried about this please ask us for help!
Landing pages, unlike a website, are designed for the purpose of convincing someone to take a single action.  Websites are built to inform, whereas LPs are built to convert. 
You sure can! In fact, we have several clients who don't build websites for their brands and instead opt into only using landing pages.
Greetings Earthling!
Ready to join our list of happy clients and grow your business?  Request your free proposal now!
Web Design
Landing Page Design
Website Design Company
WordPress Development Company